Dear colleagues,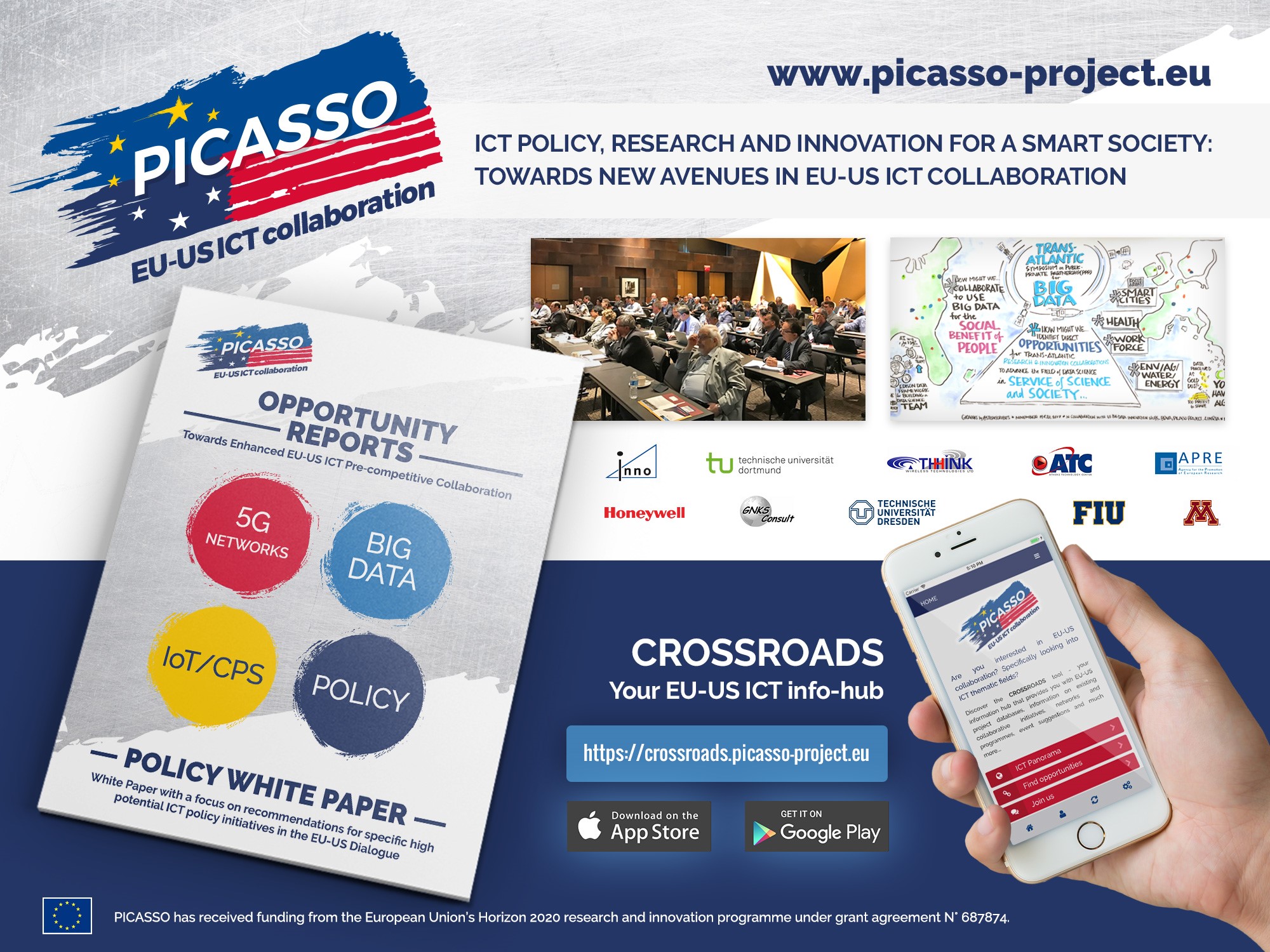 This is the last newsletter of the PICASSO project. As you know, PICASSO stands for "ICT Policy, Research and Innovation for Smart Society: towards new avenues in EU-US ICT collaboration" and it is towards this aim that we have worked over the past two and a half years. The project was initiated by the European Commission, and is funded by the Horizon 2020 Programme of the European Commission – with co-funding from our US partners.
So, what can we say about PICASSO after these 30 months?
The PICASSO project was a forum and a collaborative platform aimed at helping to reinforce transatlantic ICT collaboration in

pre-competitive research

. We had 3 technological Expert Groups: 5G networks, chaired by TU Dresden; Big Data, chaired by Athens Technology Center, and Internet of Things/Cyber Physical Systems, chaired by TU Dortmund. Each Expert Group involved a number of European and US specialists who have been working on these subjects for the last two years. PICASSO was about

key enabling technologies related to societal challenges of common interest. You can read the Expert Groups' findings in the thematic opportunity reports.

PICASSO was also

about policy

– our Policy Expert Group chaired by our partner GNKS, looked at policy topics such as privacy, security, standards, spectrum, digital communities – we have

policy briefs

on all of these topics – and prepared an

ICT Policy White Paper

, taking into account feedback received from researchers and policymakers. Connection between technologies and policies is a unique feature of PICASSO, and our experience demonstrates the benefit and the need for such connections.

PICASSO was about a panorama of ICT priorities, initiatives, programmes and projects

. It was also about getting feedback from the industry

, on both sides of the Atlantic, on their vision including opportunities and barriers. This task was conducted with the contribution of TTHINK, our UK-based partner, who interviewed 70 companies, collected 60 suggestions and grouped them, and with a large contribution from Honeywell, our US-based partner. All the

analysis materials

are available on-line, and we invite you to utilize them in your own activities.

PICASSO, was about analysing and highlighting research and innovation opportunities, pointing out new avenues for EU-US research, innovation and policy collaboration and proposing light mechanisms and initiatives that would be beneficial for both sides.

PICASSO was about

providing opportunities

to specialists from both sides to meet each other and discuss technical topics, as well as getting insights on advancements and opportunities on various other topics. As such, numerous workshops, meetings, webinars were held (see more

here

). The first Transatlantic Symposium was organised in Minneapolis in June last year by our partner Technological Leadership Institute, University of Minnesota, USA, and brought together 90 specialists for 2 days' discussions – which we built on during the second year of work. This continued with the Second

Annual Transatlantic Symposium

being held at the Wilson Center, Washington DC, in June 2018 – again, 90 participants actively took part. Such gatherings start to become a tradition! Would you like to host or co-organise the Third Symposium in June 2019?

Contact us

and share your ideas!

PICASSO was about assessing

opportunities to access programmes

– and sometimes funding – in Europe and in the US. Our partner APRE from Italy dedicated a lot of work to screen programmes and organised webinars on this matter, explaining upcoming opportunities.

PICASSO was also about

CROSSROADS

, your EU-US ICT info-hub, an online tool developed by inno TSD, France.

Check out

what is in it for you!

It was about improving visibility and mutual understanding on both sides of the Atlantic: we have many differences, but we have even more common elements to build on. Our partner Florida International University, and its Jean Monnet Center of Excellence, have been doing a lot to bring the two sides closer together.

The PICASSO project is over – but it is about sustainability and impact. It is about mechanisms that will remain after the project's end, and about working together to tackle the identified challenges. But most of all, it is about partnership between several European and US American organisations, more than 40 expert group members, and also policymakers, networks and funding agencies.
As the PICASSO coordinator, I would like to thank the whole team for its motivation and contribution throughout these two and a half years. The initiative is coming to an end, but the joint work will continue!
Looking forward to pursuing our cooperation!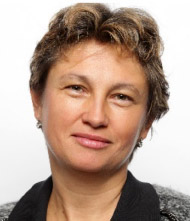 Svetlana Klessova
PICASSO Project Coordinator
inno TSD, France
s.klessova(at)inno-group.com