Are you an expert working on ICT Standards?
StandICT.eu is a new initiative funded by the European Commission focused on supporting the participation and contribution of EU Specialists to SDO and SSO activities covering the 5 essential building blocks of the digital Single Market:
5G
Cloud Computing
Cybersecurity
Big Data
IoT
StandICT.eu, "Supporting European Experts Presence in International Standardisation Activities in ICT", addresses the need for ICT Standardisation and defines a pragmatic approach and streamlined process to reinforce EU expert presence in the international ICT standardisation scene.
These become the topics for a series of 10 Open calls focused on priority domains and a continuous cascading grants process, launched by StandICT.eu from March 2018, providing support for European specialists to contribute to ongoing standards development activities, and attend SDO & SSO meetings.
The table below shows the different types of grants and funding ranges available for anyone who registers as an applicant and submits a proposal: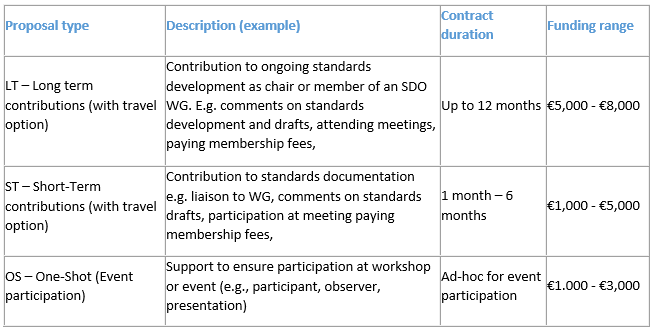 Find out more on StandICT.eu and follow the project on Twitter!